Logan Mohtashami, Benzinga Contributor
On this date last year I shared a chart with CNBC's Diana Olick, which indicated how far removed home builders were from economic reality. Titled appropriately "Economic Denial From Home Builders" the chart and article can be read here:
http://loganmohtashami.com/2013/09/17/economic-denial-from-home-builders/
Now, one year later, the builders have raised confidence to yet a higher and ever more disconnected from reality level, by reporting confidence levels equal to the number recorded back in November of 2005 . At that time, numbers of total starts were quite high compared to today's numbers. Also, it is notable that November 2005 was in the middle of the housing bubble being formed
Below a chart, from Diana Olick on CNBC, illustrates the current disconnect. As can be seen, we are witnessing the summer sequel of economic denial by home builders.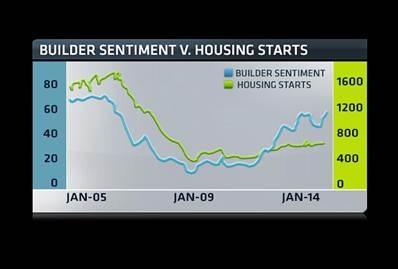 An irony to this is that 2014 has been the most disappointing year from new home sales and starts that I can remember since I began tracking housing data. A year which sales growth was expected to rise 20% or more, and starts expected to show growth in single family starts too, is puttering to a point at which we are questions if sales and single family starts are even going to be positive year over year. As for starts, those are led by multifamily expansion, which has been booming in this cycle for good reasons, but not reasons which bode well for single family housing.
One reason for these trends, I believe is that new home buyers are more interested in the fresh existing inventory crop that is coming back to the market, than buying a new home. Why would this be?
Existing inventory provides two advantages to a buyer
1. Much cheaper
2. Geographical advantage in any given city
At the beginning of the year, my conservative outlook was for 8% sales growth year over year due to the  "low bar we had to beat" factor and that the new home buyers are coming from more affluent class of Americans. But now, even 8% is looking doubtful
As always housing is soft because we have a DTI ( Debt to Income) and LTI (Liabitly to Income) problem. Another great chart from Professor Antony Sanders
http://confoundedinterest.wordpress.com/2014/09/17/got-rent-homebuilder-confidence-rises-to-9-year-high-despite-stagnant-wages-and-declining-labor-force-participation/
Logan Mohtashami is a senior loan officer at AMC Lending Group, which has been providing mortgage services for California residents since 1988. Logan is also a financial contributor for Benzinga.com