Mortgage Purchase Applications
Last year (2014) we had double-digit declines in mortgage purchase applications year over year, even with falling interest rates .  So far this year, as we are in month three, demand has been flat, year over year, to slightly higher, but it is not meeting my expectations of 5-10% growth, which would still be quite modest since we are comparing it to a 21st century low set in 2014. Interest rates are lower this year as the 10 year yield got near to my predicted 1.60% level with a 1.64% print in 2015.  The low rates however, haven't created increased mortgage demand.
Mortgage Purchase Applications and Mortgage Rates Declines Since 2007 (credit  Professor Anthony Sanders)
https://confoundedinterest.wordpress.com/
Today's mortgage purchase applications number showed 3% year over year growth, which is a start.  But better than 3% growth is  needed to  improve the market from the 21st century low set in 2014. There are still a few more months in the spring selling season to make up for our slow start in 2015 but by June the season will be over and mortgage purchase applications will start their traditional seasonal decline in volume.
Existing Home Sales
Existing home sales, so far this year, are showing year over year growth but since last year sales were so soft, this is not necessarily evidence of a healthy market in this sector. Cash buyers are under 30% for the first two months of this year, whereas in January and February  of 2014 they were 33% and 35% percent of the market, respectively.  Cash buyers have been holding up the housing market with their "over-participation". Now that we are seeing fewer cash buyers  mortgage buyers will need to pick up the slack in order to have growth in this segment.  I predict a slight year over year gain for total existing home sales as long as cash buyers stay in the market with their current participation rate. We have just started the spring selling season so we will need to see a strong uptick in the Seasonally Annual Adjusted Rate of Sales (SAARS)  in order to achieve over 5.4 million peak sale for the year.
http://wp.me/p1rch2-aEL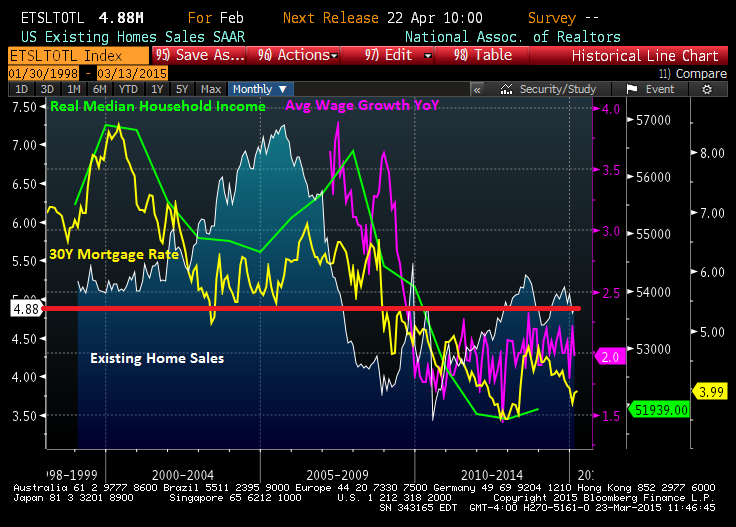 First Time Home Buyers
We've heard a lot of hype about first time home buyers making a comeback in 2015 to pick up this slack and drive overall growth in the market.  But the painful truth is that first time buyers  are  still below 30%  of the market (last year they were 29% of the market) whereas in a healthy market we would expect them to make up about 40% of the market. Household formation numbers are improving which is the first step in the social cascade that leads to home purchase. Rent , date, mate, marry, 3.5 – 6 years after marriage home purchase, is the social sequence we need to improve this segment.
Our biggest age group in America is the 23 -25 demographic.  They will need some time to mature into  first time purchasers.
New Home Sales
After a huge miss in sale expectations in 2014, new home sales are showing growth in the first two month of the year.  The numbers reported are confounded with large margins of error but do show upward momentum. I expect total growth of 8%-12%, year over year, for this sector, but keep in mind this makes up only about 10% of total home sales.  Builders could potentially generate more sales if they were willing to incentivize the middle-income buyer instead of focusing only on the wealthy buyer. We saw some growth in 150K -$299K price range, but a large percentage of sales still, are in the over $400K range.
So what can we look for in the Spring of 2015 for housing?  Mortgage purchase applications are flat to slighter higher, existing home sales look to be  slightly higher for the total year number.  New home sales are showing  double-digit growth but are still tilted toward the upper income home level and make up only a small part of the overall market.
These metrics are no surprise to me because my core thesis since 2010 has been that we don't have enough qualified home buyers in America (once you remove the wealthy cash buyers) to drive a normal healthy market.
Added proof of this is that the Federal Reserve's emergency interest rate policy of zero percent is still in place seven years into this economic cycle. The 10 year note is below 2%, a low which hasn't been seen since 1941-1945..  These facts demonstrate that the Fed does not believe we have fully recovered no matter what they verbalize to the market place. In fact mortgage rates have been below 5% since early 2011 and so has the zero interest rate policy  but this has not driven strong mortgage  demand from Main Street.
Logan Mohtashami is a senior loan officer at AMC Lending Group, which has been providing mortgage services for California residents since 1988. Logan is also a financial contributor for Benzinga.com